The Ride to Announce Ride Scholar Class of 2019
The Ride to Announce Ride Scholar Class of 2019
December 13th, 2019 | The Ride
Madison, Wis. –
The University of Wisconsin Hockey program hosts their fourth annual Face-Off Against Cancer game which honors the local cancer efforts made at the University of Wisconsin and the UW Carbone Cancer Center on Saturday, January 18 versus Michigan State at the Kohl Center.
The game will feature a first intermission presentation recognizing the University of Wisconsin's 2019 Ride Scholars who are physicians and researchers identified for their groundbreaking cancer research discoveries and patient treatment methods. The Ride Scholar Class of 2019 will be presented with over $400,000 to advance their cancer initiatives. The Scholars will join a prestigious group of over thirty other University of Wisconsin-Madison doctors identified below who were previously recognized as Ride Scholars since the inception of The Ride in 2016.
"UW has the only comprehensive cancer center in the state and our hockey program is honored to recognize the local efforts made in advancing the outlook of cancer treatment. We're proud to host our Face-Off Against Cancer game to recognize our medical community and all those affected by this disease."
Tony Granato, Head Coach, Wisconsin Men's Hockey
The Ride is an annual bicycle fundraiser that occurs each September and powers 100% of all rider-raised funds to the brightest minds, ideas and technologies at the University of Wisconsin-Madison to help write the story that ends cancer. The mission began in 2016 by University of Wisconsin Drs. Paul Harari and Deric Wheeler in an effort to energize the community and accelerate cancer research and patient treatment initiatives. To date, The Ride has raised over $1.2 Million of which 100% has gone directly to support the most promising research and technologies. Registration for The Ride 2020 opens mid-March at badgerchallenge.org.
Wisconsin Hockey's Face-Off Against Cancer game provides an opportunity for Badger fans and advocates in the fight against cancer to enjoy an evening of fun on Saturday, January 18 as the Badgers host Michigan State at the Kohl Center. Fans can take advantage of special ticket pricing of nearly 50% off by purchasing $13 Face-Off Against Cancer tickets here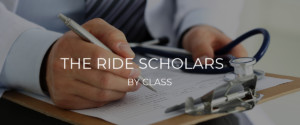 The Ride Scholars, Class of 2019
Will be announced at Face-Off Against Cancer game on January 18, 2020
The Ride Scholars, Class of 2018
Dr. Bryan Bednarz, UW Department of Medical Physics
Dr. David Beebe, UW Department of Biomedical Engineering
Dr. Josh Coon, UW Department of Chemistry
Dr. John Denu, UW Department of Biomolecular Chemistry
Jose Bien Rafaelo Hernandez, Student Scholar of Dr. Peggy Kim, UW Department of Anesthesiology
Jacob Johnson, Student Scholar of Dr. Scott Reeder, UW Department of Radiology
Dr. Rong Hu, UW Department of Pathology and Laboratory Medicine
Dr. Randall Kimple, UW Department of Human Oncology
Dr. Noelle LoConte, UW Department of Medicine
Dr. Kristina Matkowskyj, UW Department of Pathology and Laboratory Medicine
Hasan Nadeem, Student Scholar of Dr. Shaneda Andersen, UW Department of Population Health Sciences
Nicholas Schreiter, Student Scholar of Dr. Sharon Weber, UW Department of Surgery
Dr. Melissa Skala, UW Department of Biomedical Engineering
Taylor Stewart, Student Scholar of Dr. Amye Tevaarwerk, UW Department of Medicine
The Ride Scholars, Class of 2017
Dr. Paul Ahlquist, UW Department of Oncology and Molecular Virology
Yousef Alharbi, Research Assistant to Dr. Manish Patankar, UW Department of Obstetrics & Gynecology
Dr. Bethany Anderson, UW Department of Human Oncology
Dr. Edward Jackson, UW Department of Medical Physics
Dr. Steven Howard, UW Department of Human Oncology
Mark Klein, Research Assistant to Dr. John Denu, UW Department of Biomolecular Chemistry
Dr. Joshua Lang, UW Department of Medicine
Dr. Peter Lewis, UW Department of Biomolecular Chemistry
Ian Marsh, Research Assistant to Dr. Paul Harari, UW Department of Human Oncology
Dr. Shigeki Miyamoto, UW Department of Human Oncology
Dr. Mario Otto, UW Department of Pediatrics
Dr. Jennifer Smilowitz, UW Department of Human Oncology
Dr. Beth Weaver, UW Department of Cell and Regenerative Biology
Tao Wei, Research Assistant, UW Department of Cancer Biology
The Ride Scholars, Class of 2016
Dr. Mark Burkard, UW Department of Medicine
Dr. Dustin Deming, UW Department of Medicine
Dr. Jessica Miller, UW Department of Human Oncology
Dr. Zachary Morris, UW Department of Human Oncology