Badger Challenge is more than just an event in September. It is a year-round campaign that is accelerating cancer research at the University of Wisconsin. The ultimate mission of the Badger Challenge is to increase cancer cure rates through cutting edge cancer research and clinical trials. This requires tremendous passion and commitment from us and from you which is why we highly encourage every participant 18 and older to join the $1K Challenge. Can you inspire family, friends and colleagues to help you raise $1000 for cancer patients? This may require 10 people giving $100 or 20 people giving $50. These dollars go directly to the Badger Challenge mission and rapidly fund the brightest minds and innovations at the University of Wisconsin. By participating in Badger Challenge, you have a responsibility to CHAMPION the mission for those battling cancer by sharing your passion with others and asking for their support.


It is not HOW YOU ASK. It is simply THAT YOU ASK!

Our resources below are catered to all levels of fundraising ambitions. Whether your primary goal is to maximize dollars raised for UW cancer research or successfully reach the $1K Challenge, we have a plan for you.
Badger Challenge's FUNDRAISING TIPS & IDEAS provide a plan for HOW to communicate to your network as well as offering a few suggestions of WHEN to share your involvement in the UW cancer mission. Badger Challenge's network of thousands of participants provide best practices in amplifying the impact of Badger Challenge.

Below are some of their most successful communication methods in raising funds and awareness.

AT TIME OF REGISTRATION: There is no better time to share with those who support you that you have committed to taking a big step in affecting cancer research and patient treatment at the University of Wisconsin. Here is an opportunity to recruit others to join you, create a corporate Peloton team at your work, generate financial support and raise awareness of Badger Challenge and its mission.
MIDWAY THROUGH CAMPAIGN: You have dusted off your bike or broken in your shoes at this point and should have made some progress on your fitness and fundraising goals. Now is a great time to share with your network your progress. Remind them why you are participating in Badger Challenge and your ambitions.
WEEK OF THE EVENT: Share your excitement for event week with your network. Use this as a final push to meet or exceed your fundraising goal!
POST EVENT: You trained, fundraised and conquered your route distance. It is now time for celebration and thanks! Use this opportunity to share your experience at Badger Challenge and thank all those who supported your mission financially or in good spirit.
CAMPAIGN RESULTS: Each year, Badger Challenge announces its fundraising total followed by the impact of the funds. It is proud to drive 100% of all participant-raised funds directly to the brightest cancer minds, ideas and technologies at the University of Wisconsin. Whether the campaign funds go towards specific Scholars or lifesaving technologies, you will have the opportunity to share with your supports the impact of their donations.
LETTER: How often do you get a letter these days? It could be a really personal touch to send a handwritten or typed letter to someone.
SOCIAL MEDIA: Post on your social media accounts. Don't forget to use your unique fundraising link!
YARD SIGN: Place our complimentary yard sign at your home or business.
BAKE SALE: Host a bake sale to raise funds and awareness.
CAR WASH: Host a neighborhood car wash to raise funds and awareness.
CORPORATE TEAM: Create or join your company's Peloton Team to encourage colleagues to join you at badgerchallenge.org/PelotonProgram
HOST A BIKEATHON: Have your corporate Peloton Team OR friends/family schedule individuals to ride consecutively for 24-hours and raise pledges from vendors/business partners/family/friends.
PROMOTE AN ESTABLISHMENT: Host your friends at a bar/restaurant that is willing to donate a portion of sales on an otherwise slow business night.
HOST A GARAGE SALE: Whether virtually or in person, you could clean out your closet or cupboards and host a sale with proceeds going back to your fundraiser.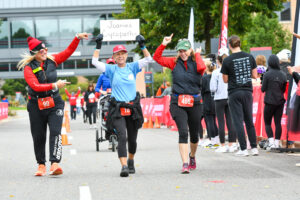 SHARE YOUR BEST FUNDRAISING IDEAS

Our participants are our most creative asset! Do you have a fundraising idea that you have found to be successful that is not included? Share it with us by emailing hello@BadgerChallenge.org while helping our Badger Challenge community maximize its impact for others. Or tag @BadgerChallenge on social media and we might feature you!
Download our Fundraising Toolkit for quick access to tips, tricks, and samples to help you raise more money to support the Badger Challenge mission.

You now have resources on WHEN and HOW to reach your network. Now it is time to determine WHAT you communicate!

See messaging samples below that range from direct fundraising inquiries to involvement notifications that you can share with your network: